Hello SageHeads!
Wow. September is already busy between recording at the fabulous 25th Street Studios in Oakland, and a concert coming up with Maurice Tani on September 23, we are pretty happy campers. 
We continue our community work playing once a month at Petaluma's Adult Day Care Center and Muirwoods Memory Care. In November, we'll start monthly visits to Alma Via in San Rafael.  It means a lot to us to continue this work. It's a humbling and very moving experience  to play our music to the people who might have been our parents, and as we're no spring chickens either, they could be us, or our little sisters and brothers.  
Saturday, September 23 Maurice Tani has invited us to open for him at St. Cyprian's Episcopal Church. It will just be Henry and myself, doing that duo that we do so well (ha ha). Maurice is one of the Bay Area's premier singer/songwriters and we are honored to share the stage with him. Tickets are $20 in advance online and $25 at the door. Get your tickets online here: https://www.squadup.com/events/sflivearts?legacy=0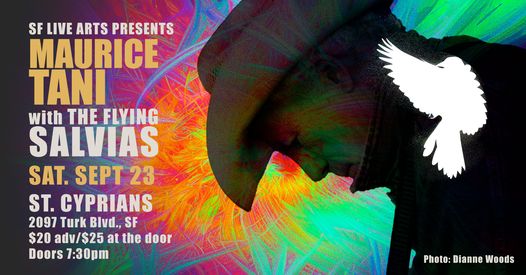 The day after, September 24, we'll be at our "clubhouse", San Gregorio Store from 2 - 5, if you're in the mood for a Sunday drive.  For us, it's a 2 hour drive from Petaluma, but the drive to San Gregorio is always one we look forward to.
October 15, we're going to be at the Santa Rosa Lost Church for a Sunday matinee again, this time with our friends SpringHouse.  We'll be sharing Chris Kee on bass and David Phillips on steel, so it's kind of a "Together and Alone" theme.  And Kathleen is particularly excited that Jane Selkye will likely add some of her magic to harmonies on a Flying Salvias tune or two. 
We wish you all the best of everything! Especially peace, love and happiness.
Kathleen and Henry