May writing - RIP, Pops!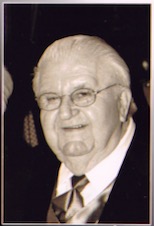 ROBERT JOSEPH ENRIGHT, our dad, passed away peacefully on Sunday, May 15, 2022, at the Petaluma home of his daughter Mary, son-in-law Jack, and granddaughter Elaine, where he had resided for the past 3 years. He had always loved animals. At Mary's, he had a merry band of dogs, cats, rabbits, chickens, ducks, horses and cows who were happy to keep him company. 
A San Francisco native, he was born February 5, 1928 to parents Joseph and Margaret Enright. His little brother, Jack Marlowe, came along 3 years later. Their lives on Broad Street would be permanently altered in 1939 when father Joe, employed as a dock checker on the SF Embarcadero, and active in Union politics, was run down (along with co-worker Arthur Keane) by a semi-truck one night.  The driver stopped long enough to "make sure he'd done the job," and then took off. 
Raised by his mom who would remain single all her days, they went to live for several years with Aunt Vi, Uncle Al Gander, and cousins Maureen and Gael. Dad eventually would commute from Burlingame to Sacred Heart High School in San Francisco, graduating in 1946. 
He enlisted in the National Guard, serving from 1947 to 1953. 
He began working while still in high school and worked hard throughout his life to take care of his family. He was a golf caddy, postal worker, file clerk for the State, and a shipyard worker in South San Francisco. 
Ultimately, he joined the Building & Construction Trades Teamsters Union Local 216 and embarked on a long career as a cement truck driver, working for Bodie, Balboa Building Materials, PCA, Lonestar, and Kaiser. He once confided that there was not a major construction project in downtown San Francisco that did not include one of his cigar butts in its foundation. He briefly tried on a white collar, working for Fireman's Fund as a Safety Engineer, but the shirt just didn't fit right, and he went back to truck driving.  He drove a gas truck for Standard Oil while also attending night school at USF studying Accounting, which came in handy, but played second fiddle to the hum of the truck engine. The young family he would eventually have lived through at least one Union strike.  
He was at a YLI dance with his crew of "jolly boys" when he met Cecilia Tollini. They fell in love and he sold his car to buy her an engagement ring. She became his wife in 1949. The Jolly Boys showed up at the Russian River stop on their honeymoon trip, but Cecilia took it in stride. He loved her and was so proud of her intelligence and accomplishments. They would have five children and remain devoted to each other for 68 years until Cee's death in 2018. The educational and professional success ratio of the kids was pretty good, and Dad was proud of us, but Mom remained the gold standard. 
Bob and Cee took up residence in the Westlake neighborhood of Daly City in August 1951, where they raised their family. They were founding members of Our Lady of Mercy Parish and Bob was active with the Westlake Catholic Men, working the bingo games and the annual church festival. Opening and operating "The Kiddie Corner" children's store in St. Francis Square Shopping Center was "a learning experience". For years, Bob also tended to the Tollini Apts. on Van Ness Ave., maintaining the property for Cee's mom and also helping Nonna with her bookkeeping. And he kept on working: he even sold magazines door-to-door after getting home from his day job. In the midst of all, there remained the priority of seeing his kids play sports or perform in recitals.
He was a member of the Olympic Club and the Northern California Golf Assn. 
Once the kids were grown and pretty much taking care of themselves, Bob and Cee began to travel. They enjoyed cruising and traveling the world, sometimes on their own, with family, or with friends Dario and Kay Baciocco, and Doris and John Muilwyk. 
He is survived by children Kathleen (Henry), Jack (Anne), Richard, Robert (Erin), and Mary (Jack); grandchildren Danny, Lisa, Joseph, Michael, Elaine, Robbie, John, and Kate; great grandchildren Michael, Kaitlyn, and Colin; many Enright nieces and nephews; cousin Gael Rodgers and her family; the Windsor Drive Gang; and relatives and friends nearby and as far away as Ireland. 
He was very proud of his Irish lineage, particularly his Great Uncle Jamie Moynihan, Irish freedom fighter during the years of 1916-1923. 
He did love his Manhattans, which he continued to enjoy up until the week of his passing. 
He always said he was going to have "I told you I was sick" inscribed on his tombstone, but we think he'll forgive us if we don't actually do that. 
The family thanks Petaluma Hospice and the Lift & Assist Team of the Petaluma Fire Department for their kindness, caring, and support.
Love,
Kathleen