Dear Sageheads, 
It's been awhile since we have checked in. This is because we took a leisurely trip to Europe for a few weeks, and also had a few family occasions of sadness. Plus, sometimes we like to do little market-tests to see if anyone will show up without us bugging them; happily, this was the case and we thank you for that!  We are probably lying about the market-tests, the truth is we can't keep up the pace.  This likely will help to explain why we are so famous.
Regarding our European trip, yes Notre Dame Cathedral did catch fire while we were over there, but I swear all we did was ride by it during a boat ride down the Seine and take a picture.  We attended a performance of La Traviata at La Fenice in Venice and it is still standing, by the way. 
Becoming part of the Jones Gang Orchestra for the Mad Dogs & Englishmen Tribute in March was a blast. Sold out Rancho Nicasio! Joining Margaret Belton for her Today, Tomorrow and Forever tribute to Patsy Cline is next on the schedule, and you can get tickets for that here.  That show will take place on Sunday, June 16 at the Freight & Salvage in Berkeley. 
One thing we have been asked to do is to give more notice of our own Flying Salvias Shows, so here goes: 
San Gregorio Store    Once a Month    11 am – 1 pm    Stage Road & Hwy 84 
Sunday, May 19   

Saturday, June 8      

Saturday, July 13 

Saturday, August 10    

Sunday, September 15   

Saturday, October 12 

Saturday, November 9 

Sunday, December 8 (Jones Gang follows at 2 pm) 

    
Friday, May 24     4:30 – 6 pm
Armando's Happy Hour and a Half 
707 Marina Vista, Martinez 
Full band with Diana Greenberg – fiddle; Dave Golia – bass;  Ken Owen - drums 
Friday, May 31    7 – 9:30 p.m. 
5 W Manor Drive, Pacifica 
With The DG's – Diana Greenberg on fiddle, and Dave Golia on bass 
Sunday, July 21        4:30 – 6:30 pm 
Bird & Beckett Books and Records 
633 Chenery Street, San Francisco 
Full Band! 
Hope to see you soon!
Kathleen & Henry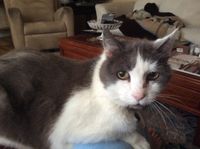 RIP Mickey the Cat   03.22.2019