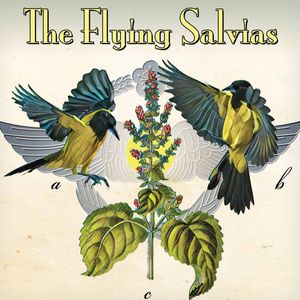 THE FLYING SALVIAS ORKESTRA 
The songs Kathleen & Henry Salvia write will truly soar when the Flying Salvias Orkestra takes wing:
SATURDAY JUNE 4, 7:30 P.M.                                      MILDRED OWEN CONCERT HALL                                        1220 LINDA MAR BLVD. PACIFICA
With lyrics contemplating the mystery of creation, riffing on Shakespeare, visiting a friend in jail, comparing misguided love with chameleon car paint, or swinging from depression and doubt to simple joy; and wrapped in the rhythms of beatnik jazz, swing, rock, country, folk, rhumba, samba, or whatever groove they deem appropriate at the time. This refusal to linger long in any one musical lane also holds true of the cover tune detours The Flying Salvias occasionally take.  This is Ameri-kinda!   
You're going to want to listen, but you may also find dancing irresistible from time to time.  You will cry, but other times, you will also find it impossible not to laugh. You are also allowed to sing along if it doesn't bug your neighbor.  Do what makes you happy, and The Flying Salvias will be happy, too! 
"Kathleen's got a set of pipes that can go from torch to sweet little charmer. Henry's skill on keys and accordion defines jaw-dropping."  Jean Bartlett, Pacifica Tribune 
To Henry, Kirk Hammett of Metallica says: "You are seamless. You play clavinet like Stevie Wonder."  (Disclosure: This means Henry knew the songs they were gonna play.  Also, no clavinet will be present in the Mildred Owen Concert Hall on June 4.) 
Over the years, Houston Jones, Oakland Interfaith Gospel Choir, Emmylou Harris, Big Lou's Dance Party, Peter Rowan, Joe Cocker, Barbara Morrison, Tom Waits, Denny Laine, and Metallica have all had the pleasure of working with one or more members of The Flying Salvias Orkestra. 
The Flying Salvias Orkestra: 
Kathleen Salvia, vocals; Henry Salvia, keyboards, vocals; 
Philbillie, guitar; David Phillips, pedal steel; 
David Golia, bass; Ken Owen, drums; John Pearson, percussion 
TICKETS ON SALE NOW!
Presenter: Pacifica Performances. Location: Mildred Owen Concert Hall, 1220A Linda Mar Blvd. (in the building with the colorful mural) Pacifica, info@pacificaperformances.org  In-person: $23.00 non-members, $18.00 members. Available online www.pacificaperformances.org or at the door. Starting time: 7:30 p.m., doors open at 7:00 p.m. The Pacifica Performances office is not open Friday after 1:00 pm, or at all on Saturday or Sunday to receive calls or emails.